On arrival
LOC will arrange transportation of Conference participants from the Kazan airport to the hotels. LOC representative will meet participants in the airport with "COSMOS" printed word. To arrange these procedures please, provide LOC with the following information:

The flight number, date and arrival time to Kazan
The flight number, date and departure time from Kazan

Please inform LOC in which Hotel (Hayall or Shalyapin) you have already reserved room or you wish to reserve (if not yet), and dates of stay in the Hotel.

Note, that some participants received the booking confirmation from both hotels. Please, check proper dates of the reservation.
Both Hotels have cash machines (ATM) to withdraw cash in Roubles that accept Viza or Master cards. There are several exchange offices in the hotel neighbourhoods.
For any case, TAXIcab from the Kazan airport to downtown (hotels) costs around 1000 rubles (~ 30-40 USD).
Kazan map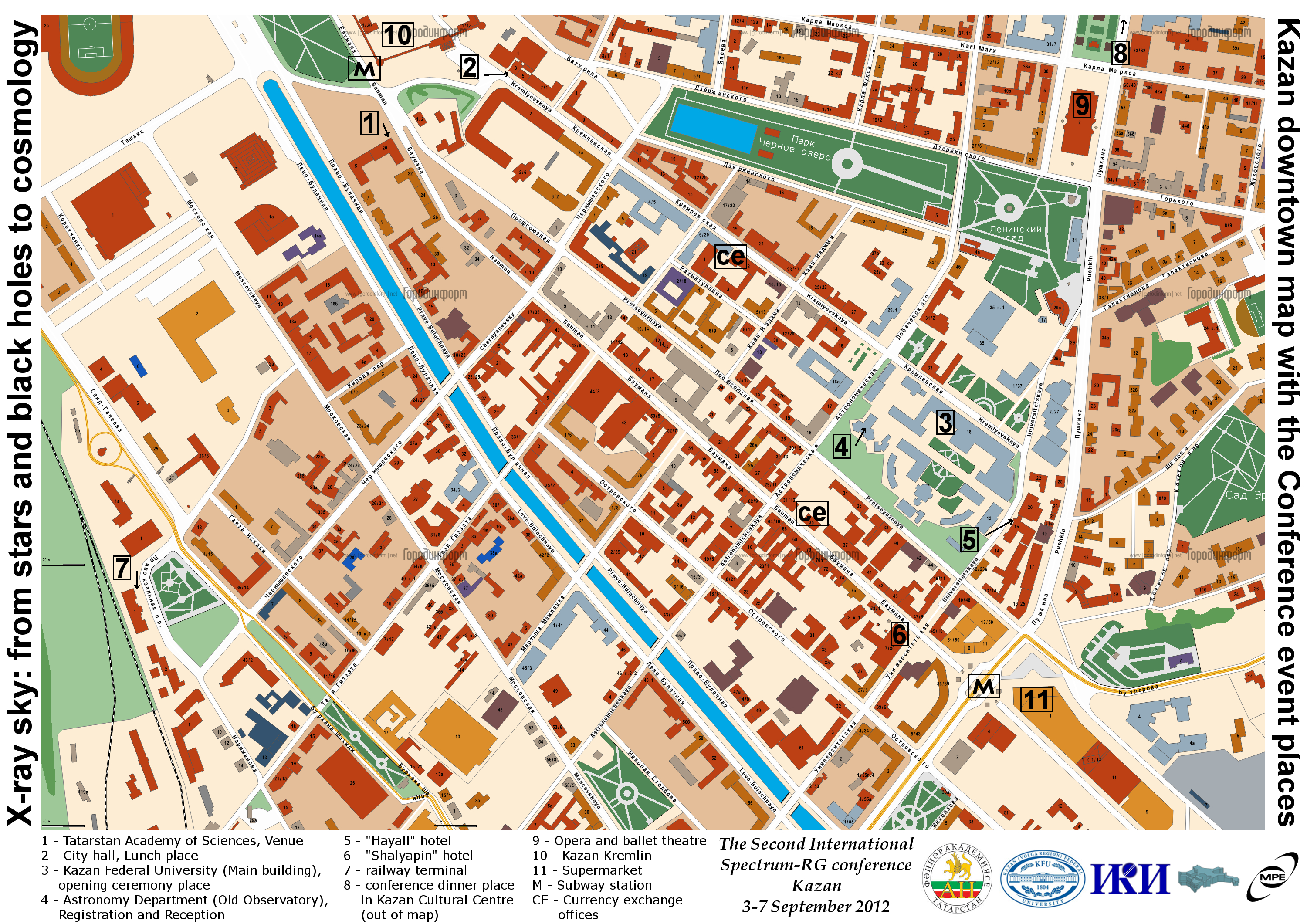 Migration Card
According to the rules, everyone has to go through passport control and customs upon arrival at their first stop in Russia (in the most cases it is Moscow).
If your flight is (your country) - Moscow - Kazan, then the passport control will be in Moscow. If you have a direct flight to Kazan then passport control will be in Kazan.
During procedure of the passport control for foreign participants, officer will provide you a special card (migration card), where your name, passport number and final destination in Russia will be written. Please, be sure that your final destination is Kazan city. The passport control procedure takes usually few minutes.
Please, keep this migration card always with you. This card will be stamped in hotel you are staying, confirming your arrival to Kazan. You will need this stamped migration card during the passport control on the way back.
Baggage coupons
Please, keep your baggage coupons with you until you receive the baggage. Upon your arrival to Kazan airport, airport staff will check the numbers on baggage labels and baggage coupon you have on your hands.